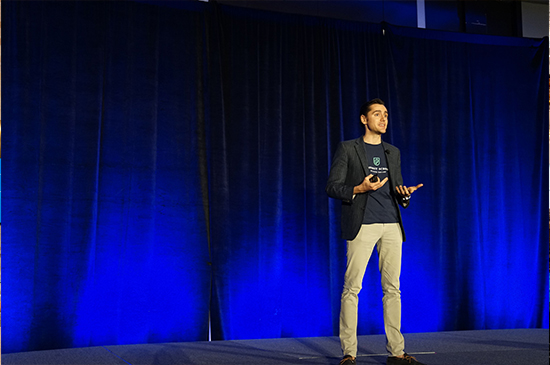 Non-verbal communication
When communicating, there is what you say and what you show.
When speaking in public, it's easy to imagine the importance of the spoken message, the wording used and the way that words are pronounced. However, non-verbal communication including your posture, gestures and anchoring points also have a tremendous amount of importance. This aspect of public speaking is therefore indispensable in order to become a powerful and inspiring communicator.
Our solutions
Training in public speaking – in intra or inter-company sessions
Learn to master your body language to make your communication more effective
By combining their extensive public speaking experience and expertise in pedagogical engineering, the consultants at LingoFacto have designed a tried and proven training program that has helped hundreds of professionals in France and worldwide. During our 'Making Memorable Presentations' seminars, you'll learn all the secrets of public speaking and put your newfound knolwedge into practice throughout the day to obtain guaranteed results! This program, available in English and French, can be done with your entire team or in an inter-company format depending on your needs.
Individual coaching
Improve your non-verbal communication with a public speaking expert
Your body is a powerful component of your overall message. That's why our experts accompany executives, managers and sales reps to prepare them for major events with high stakes. We increase their awareness and use of non-verbal communication to increase their credibility.